California Plein Air Paintings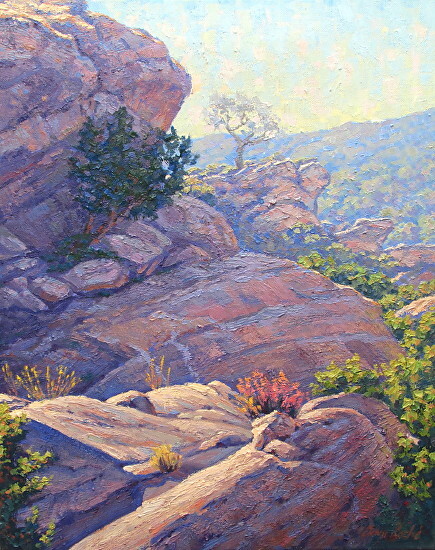 Near Los Angeles, California, in the Santa Monica Mountains, around famous Hollywood, Malibu and Topanga there lay hidden rural places of grand natural beauty. I don't have to go far from my home studio to find and portray these spectacular natural treasures of Southern California. This enormous sandstone formation is one of those unique jewels.
My goal as a human being is to promote Goodness. Beauty is a material way of expressing goodness and art is its language. I use my knowledge of this language to portray all natural and man-made beauty. I do not use my unhappy, adverse childhood and many past misfortunes as an excuse to produce ugly, outrageous, psychologically sickening and angry works. I chose to take the path of goodness and beauty and help others by producing beautiful California plein air landscape and flower paintings for their homes and offices.
Whether en plein air or in my art studio, I portray the grand Southern California landscape, coast and flowers in my original oil paintings. I reside on the outskirts of greater Los Angeles in the free-spirited Topanga Canyon, where I paint little known local rural scenes in the Santa Monica Mountains, as well as famous and popular beaches and cliffs from Malibu to Santa Monica. By gracefully simplifying my brushwork and color I aim to convey the feeling of vastness of the Southern California landscape. In my garden I paint the lush Southern California's garden flowers. I hike local trails to paint delicate California's wild flowers. My fresh palette and simple brushstrokes are the result of the academic art training I received in Moscow, Russia and many years of painting en plein air in Southern California.